The aim of sports massage treatment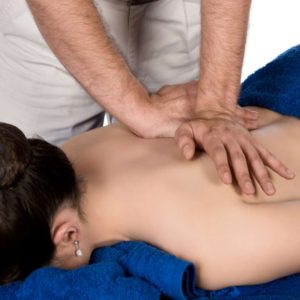 Through various types of manipulation and assisted stretching exercise, the prime aim of Sports Massage is to get the patient to a position where they are no longer experiencing discomfort or limited Range Of Movement (ROM) in the quickest and most effective way using various techniques. This is a very firm, very focused massage, specifically designed to reduce muscular tension, address minor injuries and ease deep muscular pain and discomfort.
Sports massage helps alleviate the stress and tension that builds up in the body's soft tissues during physical activity. Where minor injuries and lesions occur, due to over exertion and / or over use, massage can break them down quickly and effectively. Above all, it can help prevent those niggling injuries that so often get in the way of performance and achievement, whether the patient is an athlete, ardent keep-fitter or a once a week jogger.
This treatment is not just for the sports person; anyone can benefit from sports massage, including those in physically demanding jobs and those not quite so obvious. Occupational, emotional or postural stress may produce many similar characteristics to sports injuries.
Sports massage incorporates a combination of techniques involving stretching, compression, friction and muscle energy techniques. We bring together this blend of techniques, knowledge and advice during treatment, to work effectively with the patient to bring about optimum performance and to provide injury free training and minimize post event injuries.
What is sports massage?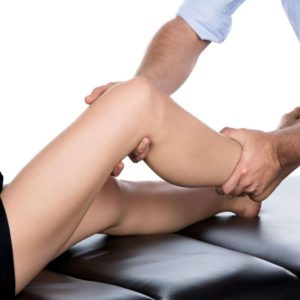 Sports massage is not just for sportsmen, it is about the proactive care of your body and muscles and applies just as much to a tradesman as a triathlete. A rehabilitation programme including progressive exercise, stretches, supplements and nutrition advice aims to return the patient to their previous levels of health and fitness.
Sports massage plays an important role in the training of all sportsmen and women to keep them injury free.
A sports massage is a very firm, very focused and sophisticated massage, specifically designed to reduce muscular tension, address minor injuries and ease deep muscular pain and discomfort. A qualified sports massage therapist will know, on a detailed level, how muscles work and then, as a result, how problems arise and how they can be treated and more importantly prevented. This means that sports massage can be of great value to anybody, not just the active. As an example, from the clients at Elite Sports Massage and Fitness, only 5 in 10 are active sportsmen or women.
Typically sports massage is used to help with:
Injury treatment and rehabilitation
Injury prevention
Address deep muscular pain and muscular tension
Relaxation and well-being
Recovery from sport and competition
Preparation for sports training and competition
The effects and benefits of sports massage include
Stripping out tight muscles and loosening restricted joints
Warming up and stimulating the body before competition / exercise
Relaxing and decongesting the body after exertion
Improving recovery between training and competition, restoring energy when fatigued
Treating strained muscles and sprained ligaments
Helping to keep minor injuries from becoming a more serious injury
Breaking up adhesions, releasing tight connective tissues
Improving lymphatic circulation, increasing blood circulation
Reducing swelling, toning muscles, muscle balancing
Relieving pain, deactivating trigger points
Enhancing body awareness
Reducing stress and anxiety, providing a psychological boost
Helping to keep the athlete in perfect condition
Improving performance generally and during competition
Injury prevention
General relaxation and increased well being
Fully qualified, fully insured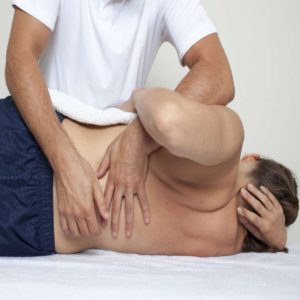 As a Sports Massage Therapist, Simon knows that massage treatment affects the body on a physical, physiological and psychological level. Muscles cannot be treated in isolation and in order to treat the physical aspect of the injury, such as circulating the blood, stretching the muscle tissue and breaking down scar tissue, it is essential to also address the psychological aspect. Simon works out rehabilitation programmes for athletes returning from a trauma injury or surgery. He understands the need for specific support and encouragement, so they can gain the necessary motivation and confidence to return to their chosen sport.
Simon Hughes is a fully qualified, fully insured, Sports Massage Therapist and sees clients at the Chiropractic Health Centres in Green St. Green and Blackheath. Simon is always keen to emphasise that sports massage has tremendous benefits for people who may not participate in sport. Many lifestyles now are sedentary and whether it is sitting at a computer screen or driving all day, sports massage will have a positive impact on your health.
With each sports massage treatment, Simon will carry out a Bio-Mechanic assessment to detect any structural weaknesses. This will determine whether the body is not functioning at full capacity. Once this has been determined, Simon will advise and demonstrate to the patient some simple anti-spasm exercises, static stretches, Muscle Energy Technique (MET) exercise or Proprioceptive Neuromuscular Facilitation (PNF) stretches which could reduce the risk of recurring injuries.
As a Sports Massage Therapist Simon's services include:
Treating minor injuries such as sprains and strained muscles
Addressing deep muscular pain and tension
Rehabilitation Programmes
Weight management advice (weight loss)
Fitness Testing and Fitness Programmes
Nutritional Advice
Advice and help to prepare for a sporting event
Testing joints for ease and Range Of Movement (ROM)
Determining whether clients need extra treatments and coordinating referrals to other practitioners
Bio-mechanic assessment and relevant exercises
Costs
1 hour session: £58
30 minute session: £37
Home Visits
1 hour: £65
Payment by cash, cheque or card
Please have a look at the testimonials page to read some feedback from satisfied customers
If you feel you may benefit from sports massage or wish to ask any questions, Simon will be delighted to help you. Call on 020 3633 1311